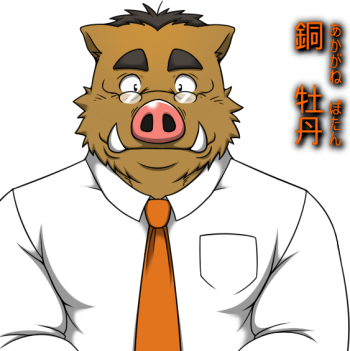 Botan Akagane
(
銅 牡丹,
Akagane Botan
)
is a 42-year-old boar. Because he is the only teacher in the village, he was the main character's teacher. He is a kind teacher, but fearsome when angered. These days he has grown fat, but he used to be an active rugby player. Although he does have a house in the village, he spends so much time keeping watching of the school that the janitor's closet has become his second home. He is Tappei's drinking buddy, but their relationship swings back and forth between public and private.
Ad blocker interference detected!
Wikia is a free-to-use site that makes money from advertising. We have a modified experience for viewers using ad blockers

Wikia is not accessible if you've made further modifications. Remove the custom ad blocker rule(s) and the page will load as expected.