Kounosuke Kuri is a Stub, that means you can help expanding the page

"Hehe, a man doesn't worry about the little things!"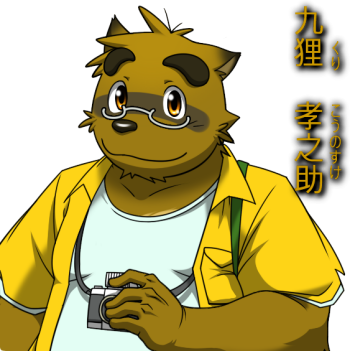 Kounosuke Kuri
 (九狸 孝之助 Kuri Kōnosuke) is one of the 8 playable rutes and one of the 9 choices to be Hiroyuki's boyfriend during the events of Morenatsu. He's
Yukiharu Kuri
's big brother. Kounosuke is generally interested in new things.
Personality
Edit
He easily gets carried away with optimism. He likes to live life in a tempo out of step with everyone else's. Although the things he does might irritate those around him, he means no offense. Thanks to his innocent appearance, they just sigh and leave it there. He loves "new things" and "things he has never seen before". He often returns from the city with lots of stuff he's interested in. He is thinking about living in the city in the future.
Morenatsu Profile
Edit
Gender: Male
Birthday: October 22 (Libra)
Blood Type: B
Height: 167 cm (~5′ 6″)
Weight: 73 kg (~161 lbs)
Hobby: Following fads, photography
Kounosuke wears a yellow short-sleeved button down shirt unbuttoned, a white tank top underneath, and blue denim shorts. He wears an analog camera around his neck. Underneath his clothes he wears white briefs.
Kounosuke's endings (Contains spoilers)