The game would take place around 4 months after Morenatsu, with Hiroyuki Nishimura returning to Waterfront Village to spend his winter break with his friends. Each route will take place after the best ending for the character chosen. Currently, none of the routes are finished but the team is focusing on one route at a time in order to get them finished quickly. It has been confirmed that alternate endings will be added to the game but only after each characters main route have been finished. The team may even add routes with other characters from the official game such as Tappei Midoriya.
The game is being created by people on the Morenatsu Discordand consist of these people. The current dev team have a total of 11 members and are wishing for an overall total of 25. The game is being made in Ren'Py and plans to have the entire script for every character done around by October or November. And the game should be released around early December. They also plan to have a solid 1.5+ hours per route but hope to have much, much more. 
Most of the game will include original backgrounds though some backgrounds will be reused from the original game. They have also started working on original music, still using Morenatsu themes, but with Christmas undertones. 
Winter Break is coming; it's coming fast, and I hope you have a great time with our take on Morenatsu and the cast of amazing and welcoming characters!  
Features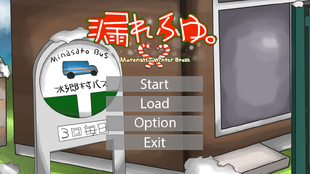 -Original Music from the Morefuyu Team
-Endings based off of each of the husbandos best endings
-7 days for each of the 9 husbandos based around Christmas
-Original artwork from the Morefuyu team
Ad blocker interference detected!
Wikia is a free-to-use site that makes money from advertising. We have a modified experience for viewers using ad blockers

Wikia is not accessible if you've made further modifications. Remove the custom ad blocker rule(s) and the page will load as expected.