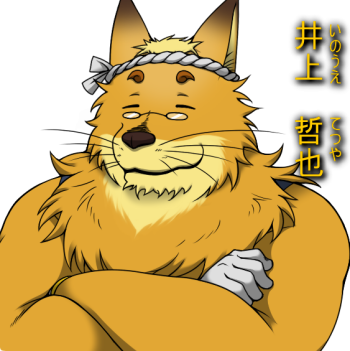 Tetsuya Inoue
(
井上 哲也,
Inoue Tetsuya
)
is a 36-year-old fox. He is a calm veteran carpenter who works for the Midoriya family. Definitely skilled, he is respected by those around him and serves as the senior apprentice. His wife and son live at home while he stays with the Midoriya Group. He returns home to visit them every day. Because of his levelheadedness, competency, and gentle nature, newer apprentices to the Midoriya Group are extremely dependent on him. He is usually the one who calms Tappei's temper by using a carrot-and-the-stick routine. To Chuukichi, he is "Merciful Tetsu-san".
Ad blocker interference detected!
Wikia is a free-to-use site that makes money from advertising. We have a modified experience for viewers using ad blockers

Wikia is not accessible if you've made further modifications. Remove the custom ad blocker rule(s) and the page will load as expected.